350+ Unique Hindu Baby Girl Names
Baby names choosing is the most exciting phase of the pregnancy and early motherhood. Your baby is going to have the identity that you select for a lifetime. Budding Souls will help you in selecting the unique Hindu baby girl names, modern, traditional Hindu Indian names. We have prepared the list of the baby girl names, You can select the best name for your little one.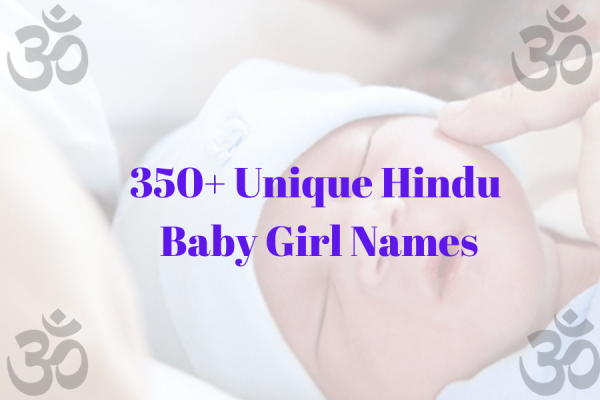 In Hindu culture, naming a baby is nothing less than a festival celebration. We see how people will decorate their homes, organize a feast and called the loved ones-family members, friends, and relatives. It is always good to know what is the meaning of the baby name.
Here in, Hindu Baby Girl Names with Meanings, we have collated 350+ unique Hindu baby girl names for you to choose from.
A   B   C   D   E   F   G   H   I   J   K   L   M   N   O   P   Q   R   S   T   U   V   W   X   Y   Z
Hindu Baby girl names starting with ' A '
Aaditri – The meaning of Aaditri is Goddess Laxmi.
Aadrita – Lots of Love Gathering, adorable, Charming.
Aadvika – The meaning of Aadvika is Unique.
Aaditri – Unique
Aadhya – First power
Aakaanksha – Wish or desire
Aakruthi – Shape
Aakarshika – Having attractive power
Aalaya – Home and refuge
Aaleahya – Sunshine
Aarushi – First ray of the sun
Aarya – Goddess Parvati, Durga
Aashika – Lovable
Aashka – Blessing
Aanandita – A very happy Woman, the one bringing fortune
Aangi – The act of decorating the God or a person close to god
Aanshi – The one who is herself a gift of God
Aanchal – Protective shelter; Refuge; Safe haven; Sanctuary
Aapti – the state of being fulfilled, act of consummating
Aaradhana – Worship; Reverence; Adoration; Devotion; Adulation; Respect;
Aaradhaya – Regard; sentiment of affection; esteem; respect, To be worshipped; To be accomplished; To be made favorable;
Aarani – Aarani is another name of Goddess Lakshmi
Aaranie – Goddess Amman
Avni – The earth
Hindu baby girl names starting with the letter ' B '
Bavita – Person Who Knows Future, Oracle
Bhagavathi – Goddess Saraswati
Bhagavati – Creator, Another name of Lakshmi
Bhamini – Shining, Beautiful
Bhanupriya – Beloved of the sun
Bhoomi – Earth
Bidya – Knowledge
Bilvani – Goddess Saraswati
Binsa – A woman who is fearless.
Brinda – Tulsi
Baby girl names starting with the letter ' C ' with meanings
Chaaya -Life
Chakrika – Lakshmi
Chaman – Garden
Chanchal – Active or Goddess Lakshmi
Chameli – Creeper with fragrant flowers
Chandani – Moonlight or A river
Chaandani – Moon light
Chaarumathi – One who is beautiful and intelligent.
Chaitri – Full moon night according to Hindu calendar
Chakrika – Another name of Lord Vishnu's wife; Goddess Lakshmi
Chandini – Moonlight which is pure and serene
Chandralekha – Rays of the Moon
Charu – Beautiful, Attractive
Charulekha – Perfect picture
Hindu Baby girl names starting with the letter ' D ' with meanings
Dharshini – Someone Who See
Dheeksha – Teaching, Concentration
Dheyanshi – God Of Meditation
Dhriti – One who has courage and patience.
Dayashree – Masterful Teacher
Deepashri – Light
Deesha – Direction
Delisha – Happy & Make Others Happy
Deepali – Collection Of Lamps
Deeta – A Name For Goddess Lakshmi
Deevena – Blessing
Delakshi – Fortune
Deleena – Good Looking
Devanadi – River of the gods, Another name of Ganga
Devashree – Goddess Lakshmi, Divine Beauty
Deveshi – Goddess Durga
Devshree – Goddess Lakshmi
Devya – Devine Power
Baby girl names starting with the letter ' E '
Eashwari – Goddess Parvati
Edha – Prosperity, Happiness
Eesha – Goddess Parvati, Purity
Ekata – Unity
Ekavali – A string of pearls
Enakshi – Beautiful eyes
Esa – wish, Desire
Eti – Arrival
Hindu Baby girl names starting with the letter ' F '
Hindu baby girl names starting with the letter ' G '
Ganga – The swift flowing
Garati – Virtuous Woman
Gayana – Singing
Gayathri – Goddess of the Vedas
Geashna – Victory
Gayathri – Goddess of the Vedas
Hindu baby girl names starting with the letter ' H ' with meanings
Hiral – Lustrous
Harini – Lord of Silence
Hema – Nectar
Harinakshi – A Precious
Harita – Fast, Progressive
Hemani – Knowledge or Wisdom
Heena – A Sensuous, Beautiful Woman
Baby girl names starting with the letter ' I '
Ira – A devoted one, Women of magdala, To be present in latent, United Noble
Ishani – Consort of Lord Shiva, Close to God
Ishita- Superior, Wealthy
Ishanvi – Goddess of knowledge
Idris – Lord, Studious
Idika – The earth
Ijaya – Sacrifice
Indali – Powerful
Baby girl names starting with the letter ' J '
Jabeen – A name of the Ganga river
Jaanaki – Daughter of Janak, Sita
Jabi – Pray
Janya – Life
Jasmit – Famed, Celebrated
Jeevika – River narmada
Baby girl names starting with the letter ' K '
Kahlima – The goddess form Kali Ma
Kailesvari – Goddess of water, The family goddess
Kaira – Kaira means Peaceful and Unique
Khushi – Happiness, Smile, Delight
Krishna – Divine, Thin
Kashvi – Shining, bright
Krishna – all- attractive
Kajal – Peace
Kashika – inherent in the very nature of things
Kamya – Wish, desire
Kyra – The Sun
Hindu Baby girl names starting with the letter ' L '
Laasya – Smile; Beam; Glow; Grin
Laavanya – Beauty; Appealing; Attractive; Good Looking;
Labha – Profit
Ladli – Loved one
Laghima – Goddess Parvati
Lakshami – Goddess of wealth
Lakhi – Goddess Laxmi
Lakshmika – Lakshmi Devi
Lakshmishree – Fortunate
Laksmi – Fortune, Prosperity
Lalli – blush, Radiance, Prestige
Lapita – Spoken, Speech, Voice
Lona – Beauty, Pretty
Hindu Baby girl names starting with the letter ' M ' with meanings
Maaya – Goddess Lakshmi
Madayanti – Exciting
Madeeha – Praiseworthy
Madhunika – Sweetness of honey
Madhupuspa – A spring flower, Rain
Madhusri – The beauty of spring, One of the 2 queens of spring
Madhvi – A Creeper With Beautiful Flowers, Springtime
Madira – Land Of Beauty
Maghna – River Gangas
Mahaganga – The great Ganga
Mahagauri – The great Gauri, A prominent river of India
Mahalakshmi – The great lakshmi
Mahasweta – Goddess Saraswati
Maheshwari – Goddess Durga
Mahiya – Happiness, Exultation
Mahavidya – Great knowledge, Great science
Malar – Flower
Hindu Baby girl names starting with the letter ' N '
Naayantara – Star Of Our Eyes
Nabhanya – Springing forth from the heavens, Ethereal, Celestial
Nabah – Nobel High, Sky
Nabhasindhu – River of the sky, Lightning, Thunder
Nabhasvati – Born of the sky, Lighting, Thunder
Nabhitha – Fearless
Nachini – Liked one
Nadanam – Beautiful Dance
NadanaMangai – Beautiful Dancer
Nagakanti – Awesome girl
Nagamitra – Friend of the serpents, Another name of shiva
Naganadi – Mountain river
Nagasri – The wealth of the serpents
Nagila – Best among serpents
Nagina – Obtained from a mountain, Jewel, Gem
Naima – Belonging to one, Striving for the absolute
Naina – Eyes
Naisha – Special
Nakavanita – Heavenly woman, An apsara
Nakshathra – The Star
Nalada – The nectar of a flower
Nalini – The lotus, Water lily
Nallammai – Excellent Girl
Namratha – Modesty
Nanadana – Daughter, Goddess Durga, Great Achiever
Nandadevi – Goddess of happiness, A lofty Himalayan peak
Nandhika – Goddess Lakshmi
Nanmalar – Excellent Flower
Nanmani – Excellent Gem
Nanthiya – Flourish
Narayani – Belonging to Narayana, Visnu or Krishna
Narumai – Goodness, fragrance
Navika – New, Fresh, Young
Neeranjana – Aarti
Neeshika – Night
Neriyaal – With Good Character
Baby girl names starting with the letter ' O '
Oishi – Divine
Ojal – Vision
Ojasvi – Brave, Bright, Splendid
Ojati – Strong, With vital power
Olikodi – Brilliant
Omala – Earth
Omkareshwari – Goddess Parvati
Orpita – Offering
Osadhi – Light containing, Herb, Medicinal herbs
Oshmi – Personality
Ovia – Painting
Oviyam – Beautiful Art
Presence starts with the letter 'P'. Now you can understand naming your baby starting with letter P is of extremely great relevance. Every letter of the alphabet can be framed in beautiful Hindu baby girl names but choosing the right name for your little one is a great task. Budding Souls are here to help you with choosing the appropriate baby girl names for your newborn. Talking about the letter 'P'  it is the 16th letter in the alphabet and has plenty of names with numerous meanings. Here is the list of the unique Hindu baby girl names starting with ' P '.
Padmaja – Born From Lotus, Lakshmi
Padmakshi – One With Lotus Like Eyes
Padmalaya – Living in a lotus
Padmamalini – Lotus garlanded
Padmapriya – One who loves lotuses
Padmanjali – An offering of lotuses
Padmarupa – With the beauty of a lotus, Another name for Lakshmi
Padmashree – Divine Lotus
Padmini – Lotus, An assemblage of lotuses
Pahal – Facet, Beginning Initiative
Palita – Guarded, Protected, Cherished
Pallavika – Resembling a blossom, A scarf
Panisthi – Admiration, Praise
Panthini – One Who Leads The Way, Guide
Parajika – A Raagini
Parameshwari – Goddess Durga
Paramesvari – Supreme goddess
Parashree – Ganga
Paravati – Coming from a distance, A River
Parmila – Wisdom
Parthavi – Goddess Sita
Parthivi – Daughter of the earth
Parushi – The beautiful and intelligent
Parvini – Festival, A holiday
Pausti – Strong, Satisfied
Payosni – Milky, A holy river starting from the Vindhya mountains
Pinal – God Of Child
Ponni – Golden, River Kaveri
Ponnammal – Golden Girl
Poonam – Full Moon
Prabha – Light, Splendor, Radiance
Prabhata – Goddess of dawn
Prabhavali – Shining, Graceful, A raga
Prabhavati – Luminous, Radiant
Pracheeta – Origin, Starting Point
Pradha – Extremely distinguished, Supreme
Pausti – Strong, Satisfied
Pavika – Goddess Saraswati (goddess of education)
Pavitra – Pure, Holy, Sacred
Prathima – Beautiful pleasant
Pratibha – Image, Light, Splendour
Pratima – Image, Likeness, Idol
Pragna – Buddhi
Prema – Beloved, Love, Affection, Kindness
Puja – Worship, Honour
Baby girl names starting with the letter ' Q '
Baby girl names starting with the letter ' R '
Rachana – Creation, Artistic work
Rachika – creator
Radha – Full moon day in the month of Vaisakha
Radhamani – lord Krishna
Radhika – Successful, Prosperous
Ragini – Melody, Attachment
Rahini – Goddess Saraswati
Rajasri – Royalty, Grandeur
Rajeena – Intelligent And Beautiful
Rajeshwari – Goddess Parvati
Rajesvari – Goddess of a state, Princess
Rajitha – Illuminated
Rajsi – Passionate, Name of goddess Durga
Rajalakshmi – Wealth of a state, Royal Laksmi
Raksha – Protection
Ramani – Loving, Delighting, Beautiful
Rashi – Collection
Ratna – Jewel
Rddhi – Prosperity, Success, Wealth
Renuka – Molecule, earth
Reeta – Pearl
Riddhi – Good Fortune
Ritu – Season
Roopa – Blessed With Beauty
Roopal – Made of silver
Rudrapriya – Goddess Durga
Rusama – Angerless, Calm
By using ' S ' letter you can pick the most beautiful names for your baby girl. Budding Souls will help you in finding the unique Hindu baby girl names starting with ' S '
Saanvika – Means Goddess Lakshmi
Saatvika – Calm
Saavi – Goddess Lakshmi
Sabita – Beautiful Sunshine
Sadia – lucky
Saesha – With Great Desire And Wish
Samanvi – One who has all the best qualities
Sandhya – Holding together, Union
Sanghavi – Goddess Lakshmi
Sanheeta – A compilation or a bunch of Vedic hymns
Samira – A chameli flower
Sambhuti – Birth, Origin
Sampreeti – Real love and attachment
Sampriya – Full loved, Dear beloved
Samriddhi – Prosperity
Sanchita – Collection
Baby girl names starting with the letter ' T '
Tamilalagi – Beautiful Tamil
Tamilammai – Tamil Lady
TamilChelviq – Tamil Girl
TamilMalar – Tamil Flower
Tamiloli – Brilliant
Tanishi – Goddess Durga
Tanishka – Goddess of Gold
Tanusiya – A Great Devotee
Tapani – The River Godavari
Tapasya – Meditation
Taraka – Star, Falling star, The eye
Taravati – Surrounded by stars, A form of Durga
Tashi – Prosperity
Tatini – River
Taushini – The Goddess Durga
Taveshi – The Name of Goddess Durga
Tavisha – Heaven
Tejasvi – Energetic
Thanisha – Ambition
Thaswika – Goddess Parvathi
Tejaswini – Energetic, Brilliant
Thaswika – Goddess Parvathi
Trinayani – Goddess Durga
Tvesha – Brilliant, Glittering
Trijagati – Goddess Parvati
Trisha – Wish, Desire
Tvishi – Ray of Light, Energy, Brilliance
Trinayani – Goddess Durga
Trpti – Satisfaction, Water
Baby girl names starting with the letter ' U '
Udgiti – Singing
Udhayarani – Rising Queen
UdiraMalar – Fresh Flower
Udita – Sunrise
Udvita – River filled with lotus flowers
Ugrajit – Victor of passion, An apsara
Ujjanini – An Ancient City
Ujjayati – One who has won, Winner, Victorious
UlagaNayagi – Queen of the World
Ullasini – Always cheerful
Umayal – Goddess Parvathi
Unjali – Blessing
Urmiya – Lord of Light
Urmila – Of the waves of passion, Beautiful
Urmi – Wave, Ripple, Light
Urvija – Goddess Laxmi
Urvisha – Lord of The Earth
Usitha – Sharp, smart
Uti – Help, Protection
Baby girl names starting with the letter ' V '
Vadivukarasi – Queen of Beauty
Vagishwari – Goddess Saraswati
Vaiga – Goddess Parvathi
Vairam – As Beautiful as a Diamond
Vaisnavi – Worshiper of Visnu, The Sakti of Visnu
Vajra – Diamond
Vandita – Praised, Worshiped
Vanie – Goddess Saraswati
Vanmathi – Highly knowledge
Vanshi – Flute
Varasya – Request, Wish, Desire
Vari – Rich of gifts, Goddess of speech, Water
Varsa – Rain, The rainy season
Vasulakshmi – Goddess of wealth
Vedi – Filled with wisdom
VeeraMagal – Brave Girl
Varunya – Goddess Durga
Vasulakshmi – Goddess of wealth
Vedanshi – A Part Of Veda
Baby girl names starting with the letter ' W ', ' X ', ' Y ', ' Z '
Wardha -Rose
Warsha – Rain
Yaalmoli – Melodious
Yaksha – Sister Of Daksha
Yakshita – Wonder Girl
Yanti – Goddess Parvati
Yashashri – Goddess of success
Yashaswini – One Who Is Successful
Yumn – Good Fortune, Success
Yuvarani – Young Queen
Zarin – Golden
Hope you liked our Hindu Baby Girl Names collection! Let us know your thoughts about our post on Hindu Baby Girl Names in the comments below.