Best Places for Baby Ear Piercing in Hyderabad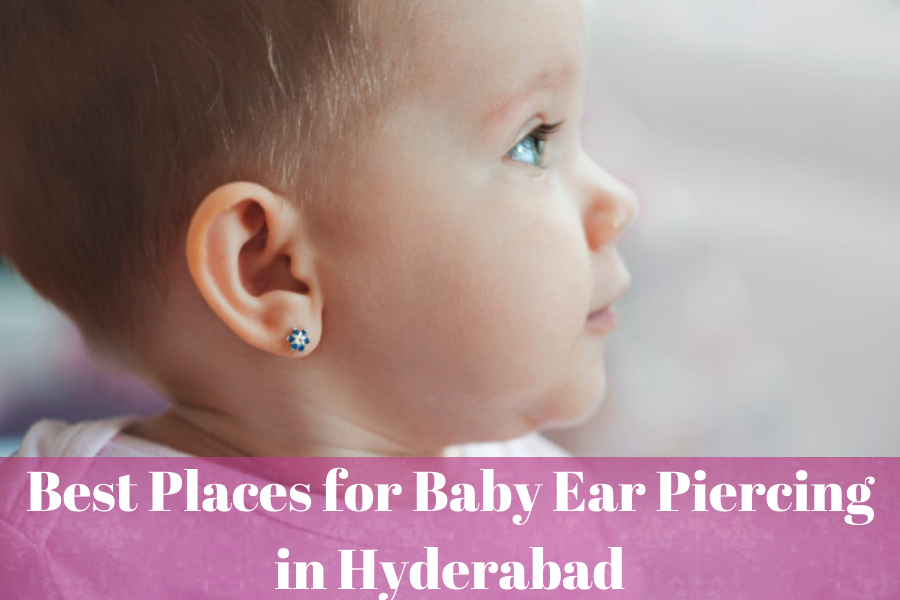 Baby ear piercing is one of the most discussed topics in parenthood around the world, In our country especially ear piercing is a tradition and cultural event from so long, Most of the parents will believe that ear-piercing your baby at small age would cause less pain and discomfort. We have collected some list of best baby ear piercing places in Hyderabad.
When is the best age for baby ear piercing?
Many parents will wonder about what is the right time for baby ear piercing whether it is safe or not, There is always a risk of infection when you puncture your baby ears because your baby's immune system is still developing only. It is good to wait a little longer at least a baby reaches 6 months. while you can wait until your baby is old enough to understand and take care of piercing herself.
Best way to do baby ear piercing?
There are multiple ways you can do baby ear piercing in the Hyderabad, Traditionally parents get their baby ear piercing by a local vendor or a family jeweller,  You can ask your pediatrician or dermatologist about child ear piercing but the most important thing is that equipment should be sterilized and clean, Sterilizing the equipment reduces the risk or chance of infection to the baby ears. Parents also can use a piercing disposable gun by professionals with the use of proper gloves and hygiene, sterile tools.
How parents will make sure the kid is getting minimal pain while doing ear piercing, Many professionals, Doctors, Salons will use a topical anesthetic cream on the earlobe made out of Lidocaine.  It helps in numbing the area and minimizing the pain down to simple pierce. This needs to be applied 15 mins before in generous amount ear piercing is done
Best places for ear piercing in Hyderabad
1) Baby Ear Piercing – Celebrity Secrets
Celebrity Secrets use high-tech painless ear piercing for babies, they will also provide safe, hygienic, Medically sterilized equipment and EC/USFDA approved. Here ear piercing will be done by experienced doctors and they do have stud collection for babies parents can choose studs for their little one if needed from here.
2) Traditional Jewellery Shops and Marketplaces
These Jewellers are doing baby ear piercing from years and they have hands-on experience, and they have tested ways of getting your baby's ears pierced. Most popular belief, they use the most sterile equipment, in which they treat the process makes it fast, effective, and seemingly less painful for kids. They usually do ear piercing the traditional needle and thread way. The most popular market areas where these jewellery shops are there
General Bazaar, M.G.Road, Secunderabad
Pot Market, Near Mahankali Temple, Secunderabad
Jewellers Market (on the main road), Near Gurudwara, Ameerpet
3) Pediatricians and Children's Hospitals
Most pediatricians in the city offer this facility of piercing babies' ears. They will be the best professional to assess whether your baby's ears are a suitable size for earrings. The advice of a doctor is also important always when a child is healthy and has enough immunity built up to decrease the chance of infection after the ear piercing.
Check with your pediatrician if he or she does ear piercings, or if they don't, maybe they could recommend some fellow colleagues or doctors who do.
You can also find a wide number of doctors who can do the baby ear piercing in Hyderabad. Please find the below links
4) Jewellery Showrooms 
The biggest jewellery shops in the city offer ear piercing facilities for babies using the disposable gun shot method. This is quick, relatively painless, and heals faster when compared to the traditional method. Some stores which offer to pierce your babies' ears include:
Kalyan Jewellers (Central ​Punjagutta)
Joy Alukkas Stores (Punjagutta Main Road / Opp. Vishwanath Theater, Kukatpally)
GRT Jewellers (Somajiguda / Kukatpally / Chandanagar)
5) Parlours, Beauty Salons and Accessory Stores
There are some beauty salons that will do ear piercings of children via gunshots. Comfortable surroundings that are kids friendly while the baby ear piercing is being done are their biggest advantages. Here are the most famous places
Women's World (Diamond Towers, S.D. Road, Near Taj Belsons Hotel, Secunderabad)
Mirrors Luxury Salons (Hi-Tech City Main Road / Road No.1, Jubilee Hills)
Teng's Chinese Beauty Salon (Devaki Chambers, P.G.Road, Secunderabad)
Bellezza Accessories Store (Shop No. 19, Plot No.1, Adj. Bajaj Electronics, Kondapur)
6) Pediacare(a unit of Balaji child care center) Dr.Niranjan Rao
Ground Floor Invinit Towers, Road Number 2, Banjara Hills, Hyderabad, Telangana 500034
Phone: 098488 83822
Open Hours: 12-3:30 PM, 6-7 PM (Monday – Sunday)
7) Czer's Salon Studio – Unisex
Plot.No.19, # 11-13-109/1/B/1N, First Floor, Kothapet-RK Puram Rd, Telephone Colony, Kothapet, Hyderabad, Telangana 500035
Phone: 097010 08584
Open Hours: 9 AM -10 PM (Monday – Sunday)
8) Buddha Tattoo Studio in Hyderabad
House no: 2-40/1/A Beside Bajajelecronics 6th shop Kondapur junction, Gachibowli – Miyapur Rd, Hyderabad, Telangana 500084
Phone: 090100 54845
Open Hours: 10 AM – 8 PM (Monday – Sunday)
9) DeftInks Tattoo Piercing & Training Studio
Plot No.132 1st floor, Vinayak Nagar, Gachibowli, Hyderabad, Telangana 500032
Phone: 097014 12403
Open Hours: 9 AM – 7 PM (Monday – Sunday)
There are some pro tips and tricks you can follow and make sure your little one has a smooth ear-piercing experience
The first important one is baby hygiene should be the topmost priority when choosing the venue for ear piercing and make sure they are using sterilized equipment with proper safety facilities.
You need to contact the people where your little one is getting ear piercing before itself, Decide which method you want to use and stick to it.
Make sure the baby is in the right age for getting the ear piercing, Carry the baby favorite toys, water, dress, snacks,etc.. with you and also ensure that baby is not hungry will this process is going on fed them before itself.
Follow all instructions for post-piercing care else it may result in infections and/or the hole is closed.
Always better to have some company along, as moms usually can't see their babies crying and need some sort of support.
Please check with your pediatrician if ears can be pierced before beginning on this adventure with your kids.
We hope you can have a good experience in getting your baby ear pierced.